Madhu Murchhana
Devoted to Indian Arts, Culture and Music
Madhu Murchhana is an N. G. O. committed to the promotion of Arts, Culture and especially Indian Classical Music. It aims to preserve our rich cultural heritage and promote it among common men, by exposing them to the best of what we have in our tradition.
This aspect deserves special attention today as more and more of our youth are getting alienated from this rich classical tradition, overwhelmed as they are by the massive cultural invasion of our lives through television and now, the internet-they seem to have monopolized all the attention. While there is nothing wrong with our younger generation knowing what is happening around the world, there is nevertheless an urgent need for them to be equally exposed to our traditional arts and music, to have a stronger connection with their roots. And that is what drives the nascent organization of Madhu Murchhana, small but with big ambition, dedication and passionate zeal for achieving the need of the hour.
Established in 1999, over the last two decades, it has held an average of 3 concerts each yearat platforms that have a national presence. Over the last 8 years, Madhu Murchhana has consistently received grants from the Ministry of Culture to hold innumerable concerts and workshops for the preservation and promotion of different forms of Indian classical music. Madhu Murchhana was also entrusted with organizing the Centenary Celebration concerts of Bharat Ratna Ustad Bismillah Khan by the Ministry of Culture 2016-17, sharing the responsibility alongside the Sangeet Natak Akademi. In 2018-19, we held "Bharatiya Lok Sangeet" concerts in eight cities of the country and interacted with over sixteen thousand students. This project was given by the Ministry of Culture under the "Organisations with National Presence" scheme.
Since its inception, Madhu Murchhana has branched out and launched Madhu Murchhana Audio in 2006, Madhu Murchhana 'Sangeet Gram' digital recording studio in 2017 to record & archive music from different Gharanas & endangered instruments, and the first of its kindthe Madhu Murchhana- Bismillah Khan 'Sangeet Gram'- a music village dedicated entirely to the preservation and promotion of Indian Music and heritage- through the Guru Shishya Parampara.
Madhu Murchhana has taken initiatives to introduce the methods involving music as the medium to reduce psychosomatic effects on adults as well as children, it being the subject chosen by Dr. Soma Ghosh for her PhD thesis. It is also driven to introduce music therapy in India which has been successful as a therapeutic intervention for people with physical disabilities. These techniques have been used to develop and maintain joint and muscle function or to increase fine and gross motor coordination and control, increase muscle strength, increase range of motion, improve cardiopulmonary and respiratory functioning, improve oral-motor skills, facilitate relaxation and controlled movement, as well as provide an outlet for emotional self-expression and provide opportunities for social interaction.
Besides the above-mentioned activities, the organization is also trying to stretch out its helping hands to aspiring musicians, imparting training and support. Special effort is being made to provide support to visually impaired music students.
The steps taken by Dr. Soma Ghosh, the founder trustee of Madhu Murchhana, to achieve the above objectives can thus be categorized into four groups
Educating and training talented students.
Promoting Young Artists
Musicians Welfare Fund.
Preservation & Promotion Of Endangered Classical Instruments & Gharanas of India
Having organized concerts at nationally recognized and prestigious locations, and attended by India's finest audience, Madhu Murchhana has veritably made its presence felt in the Indian music scene.
Among the many concerts organized by Madhu Murchhana, some are:
1. 'Ras Barse' Jugalbandi concert- at the Bal Yogi Auditorium, Parliament of India
A jugalbandi concert of Bharat Ratna Ustad Bismillah Khan & Padma Shri Dr Soma Ghosh, who then became the first woman to perform in the Parliament of India.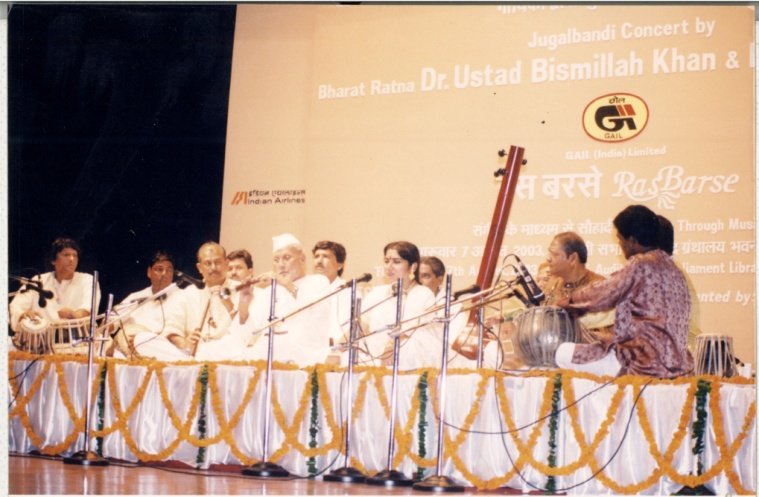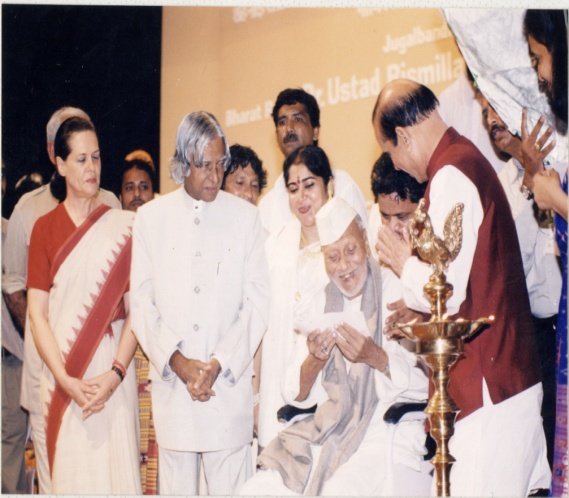 2. Revival of 'Darbari Mehfils' At the Taj Palace, Mumbai, Taj Falaknuma Palace Hyderabad, Leela Hotel, Mumbai, Ashoka Hotel, New Delhi, Siri Fort, IHC and many others.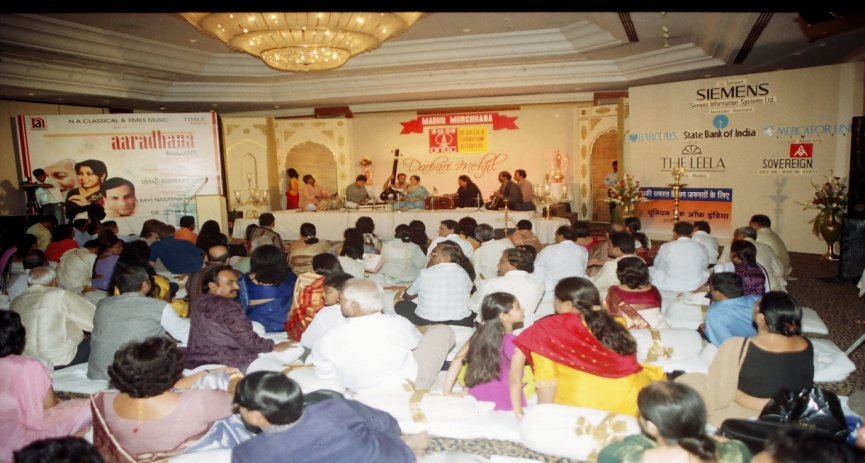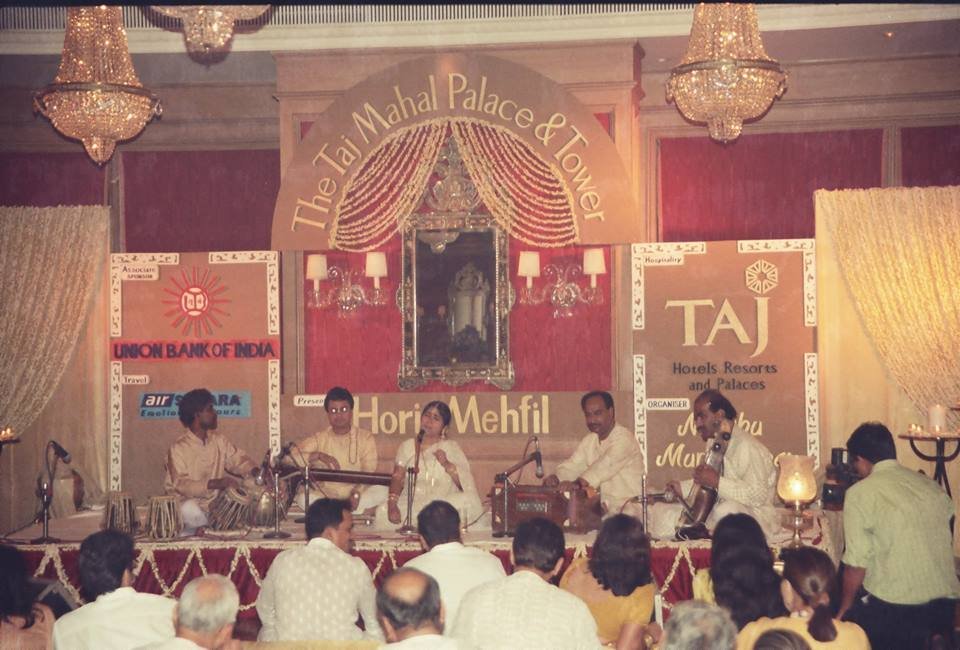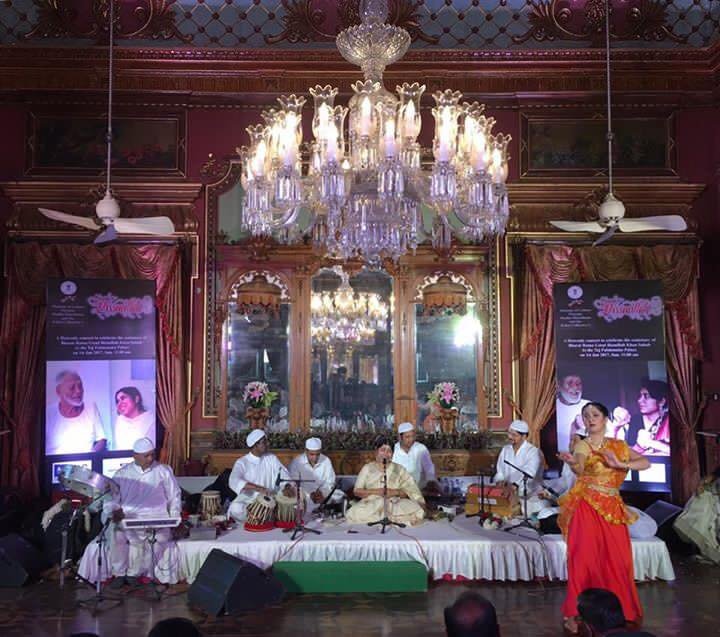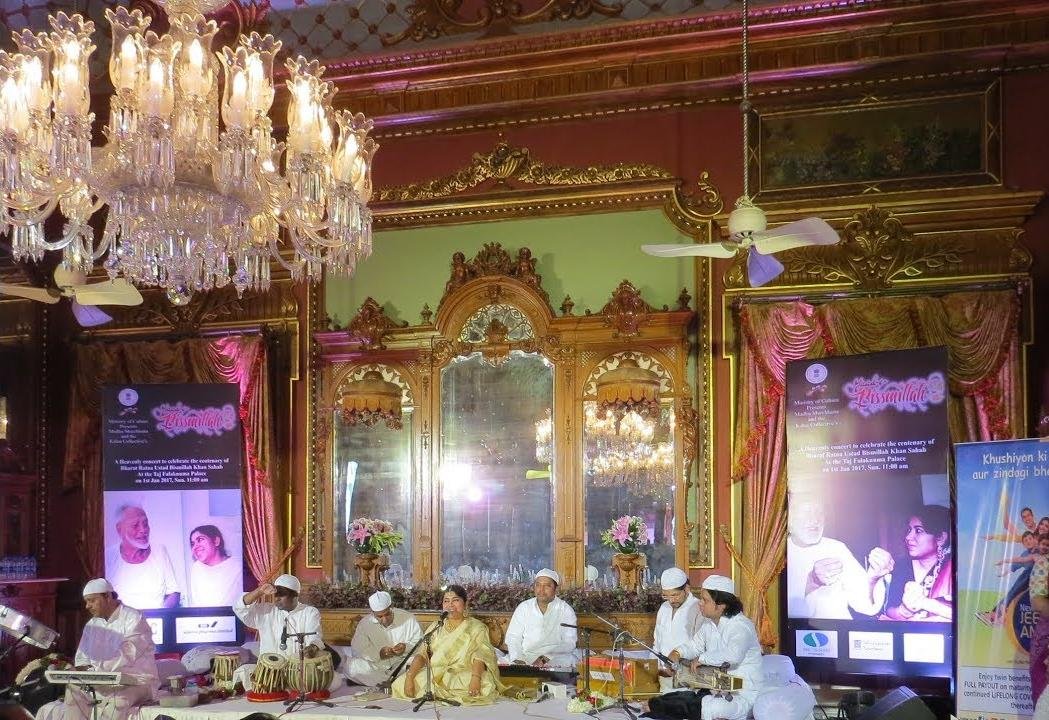 3. At historically important locations like Purana Qila, New Delhi, Bandra Fort, Mumbai, Chet Singh Palace, Varanasi.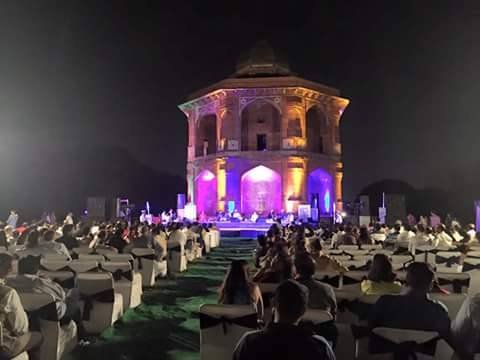 4. Invited Stalwarts to perform such as –
Ust Bismillah Khan, Pt Bhimsen Joshi, Pt Birju Maharaj, Smt Sitara Devi, Smt Girija Devi, Ust Zakir Hussain, Pt Vishwamohan Bhatt, Pt Ram Narayan ji, Pt Brij Narayan ji, Parveen Sultan, Dilshad Khan, Dr BalMurali Krishnan, Pt Kishan Maharaj ji, Pt Hariprasad Chaurasia, Pt Shiv Kumar Sharma, Pt Kumar Bose, Pt Debu Choudhary, Pt Ajay Pohankar, Ust Shahid Parvez, , Pt Vijay Ghato.
Held important concerts like Parampara- Exhibition, Seminar and concert for Preservation & Propagation of the Endangered Indian Instruments which was inaugurated and attended by Hon Dr APJ Abdul Kalam, Hon Shri Vilasrao Deshmukh, Hon Shri SM Krishna. This concert included recitals and an exhbition of endangered Indian instruments like Rudra Veena, Jal Tarang, Tabla Tarang etc. Other concerts include (revival of) Darbari Mehfils, Sham e Ghazal, Thumri Festivals, Kajri Festivals, Shardhhanjali Concerts, etc.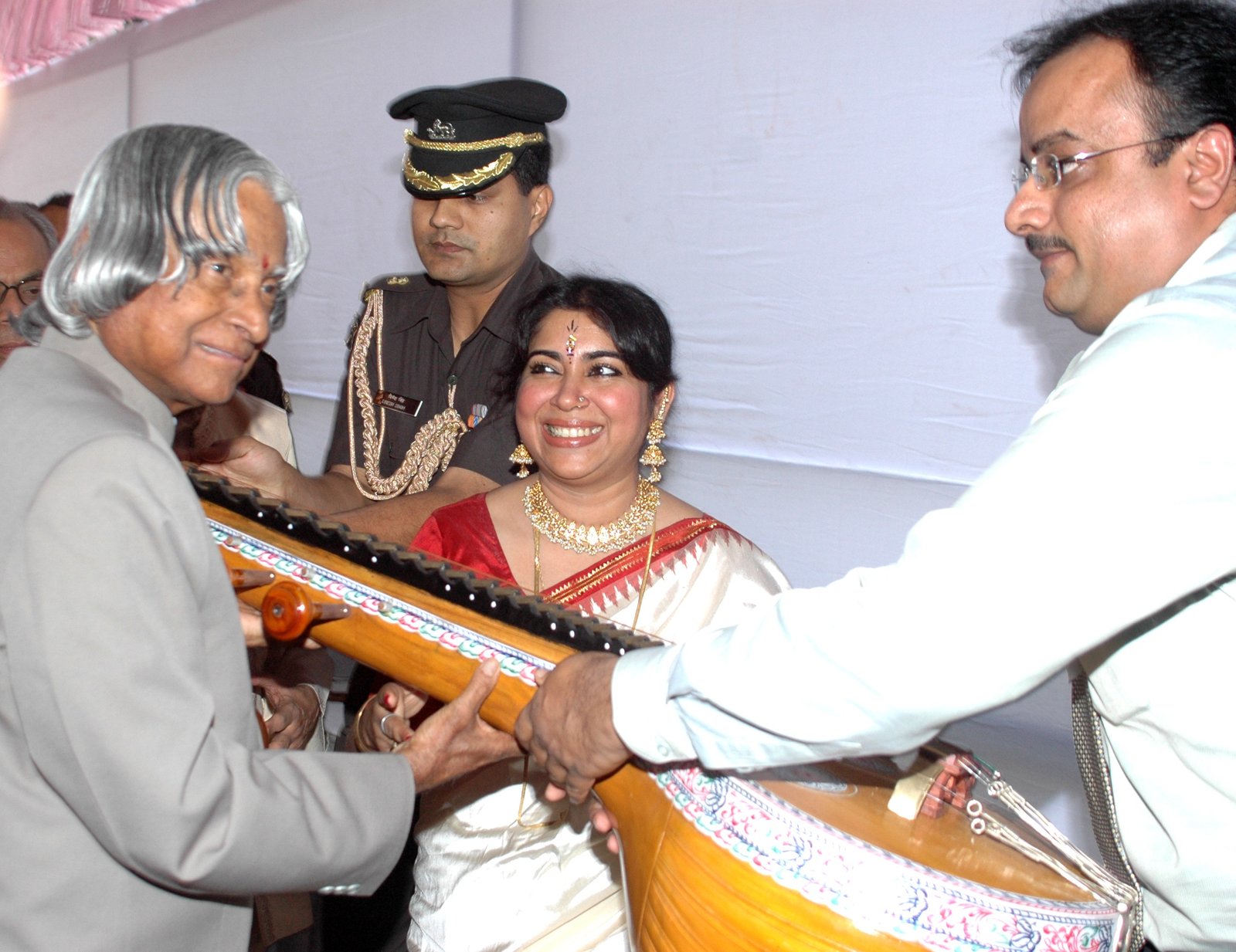 Educating and Training
Presently training 25 students in Indian Classical Music
Sangeet Gram – a residential music ashram for talented students in seven classical streams, especially in endangered instruments like Tar Shenai, Sarangi, Rudra Veena, Jal Tarang, Tabla Tarang, etc. The proposal is now with Govt. of Maharastra & Govt. Of Uttar Pradesh.
Have successfully launched a training programme for visually impaired music students since 2013
Donation of Rs. 3.25 Lakhs to Bageshwari Devi Thumri Academy, Varanasi, in 2013.
Through Madhu Murchhana's and Ministry of Cutlture's Bharatiya Lok Sangeet series- visited 13 schools across India and interacted with over 20,000 students.
Successfully visited schools and colleges in remote areas of Uttar Pradesh to speak about women's empowerment and the need for revival of classical music, an initiative in association Spic Macay 2018.
Promoting Young Artists
To promote and provide a platform to the torch bearers of various Gharanas, Madhu Murchhana started the 'Parampara' Series on 26th June 2003 at ISKCON auditorium, Mumbai.
'Parampara'-festival, exhibition & seminar on Endangered Instruments of India, inaugurated by Hon. Dr. A.P.J. Abdul Kalam, President of India in 2006, and organized Parampara in 2008, 20009 and a five day festival 'Parampara' in 2013 held in Mumbai and Delhi.
Provided a platform for budding shehnai artistes at 8 concerts held across India as a part of Ust Bismillah Khan's Centenary Celebrations held in 2017-18.
Musicians' Welfare Fund
Financial aid to Pt. Balwant Rao Bhatt, Varanasi in March 2000.
Financial aid to ailing Pt. Mohan Masterji, Varanasi in Aug. 2003
Housing aid of Rs 50,000/- to Ust. Jabbar Hussain of Rampur Gharana on 29th May 2004.
Sponsored Ust Subhur Khan by buying him a synthesizer.
Financial aid of Rs. 50,000/- to an ailing Mr. Malay Chakravartty in June, 2012 for his heart treatment.
Financial aid of 25,000/- to Mehtab Hussain in 2013.
Social Responsibilities under-taken by MadhuMurchhana
Donated the entire ticket sale proceeds of 'Shraddhanjali - 1' for relief to the victims of the Bhuj Earthquake through the event managers, Times of India, in March 2001.
Entire ticket sale proceeds of 'Shraddhanjali -2' donated to a Spastic Children's Society, POSAT India Ltd.
Built a dispensary room in Jawla, Jamkhedh District, Maharashtra.
Was a member of the Central Implementation Committee for Centenary Celebrations 2016-17.
Partook in a sanitary napkin distribution drive in Uttar Pradesh alongside the National Bunkar Action Committee. 2018
In 2020, released 'Saalamat Rahna Saathiyon'- a song dedicated to Corona Warriors including Shaan, Anup Jalota & Dr Soma Ghosh, aired on DD National for 1 week.
During Covid 19 Lockdown:
Organized 'Aao Bune Zindagi' – a virtual fundraiser concert held on the 14th of June, 2020 to raise funds for the 250 weavers, handicraftsmen, artisans and 150 artists/musicians who were rendered jobless and starving due to COVID-19. This concert featured Padma Vibhushan Pt Chhannulal Mishra ji, Shaan, Pt Vishwamohan Bhatt, Rekha Bhardwaj, Dr Soma Ghosh etc. This 2-hour concert was aired for 2 days on DD Bharti National,.
Financially helped Ust. Jabbar Hussain Khan in the medical surgery of his wife's gynecological operation with Rs 40,000/- in March. 2021.
As Dr Soma Ghosh is an Ambassador of 'Beti Bachao, Beti Padhao' Abhiyaan, Madhu Murchhana helped Miss Avani Dhobi with a financial aid of Rs15,000/- towards arrears of School Fees in June, 2021.
Funded Mrs. Preeti Yadav, (Artisan), get her intestinal surgery done at Hinduja Hospital by raising Rs 3,00,000/- for her surgery.
With the focus of passing the Musical heritage & creating a new audience for Indian music, inter-acted with over 20 thousand Students through 12 events of "Bharatiya Lok Sangeet" & "Rooh-e-Ghazal" workshop-concerts.
Helped in the hospitalization of Mr Krishna Mohan Kumar in Sep. 2022
Latest Music Video
we trying hard to make your fresh mind we trying hard to make your fresh mind